The first sign of the Zodiac, Aries are the trailblazers.

http://www.horoscope.com
Hwy 16 West – Prince George to Jasper
I was contemplating subjects to write about on this blog, and for some reason I was thinking about goats, which led me to Capricorn, which led me to the idea of a series of Zodiac themed road trips. I don't remember why I was thinking about goats, but the final destination was worth the journey. Stay tuned for your sign. Even if you do not care one whit about horoscopes, you'll get some great ideas for travelling close to home this year.
As Aries is the first sign of the Zodiac (March 21 – April 20), this seemed like a good place to start. Aries is, apparently, a sign of energetic beginnings, and this road trip really is ideal for energetic, adventurous types. I am a hotel dweller – this is not for me. This is for "real" outdoorspeople. Which makes sense since Aries is apparently also drawn to the authentic and are natural truth seekers.
I love road trips. The first major road trip I can remember took us from Terrace, BC to the four corners of the inhabited part of BC – Jasper (technically Alberta, but just barely), Fort Steele, Chilliwack, and home again. Three kids, the dog, a 1969 Pontiac Parisienne station wagon, and a camper. My road trips now are either solo or with just one or two companions at most, with digital tunes and hotels, preferably with a touch of luxury. The one thing that hasn't changed is my love of getting close to the scenery, and that feeling of anticipation that anything can happen along the way.
I have made the trip from Prince George to Edmonton several times since then, and there's a certain spot near Mount Robson, where there is a curve on a steep section, and around the curve is a permanent installation of Rocky Mountain Sheep. Every. Single. Time. Screeching stop. Slowly maneuver around the cars stopped, sometimes in the middle of the road, to see the curly horned sheep perched mere meters above the highway.
Growing up in the tiny town of Terrace in the 70s and 80s, Prince George was the big destination of choice. Well, of limited choice, since the city of (at that time) roughly 50,000 inhabitants was the closest (only a 7 hour drive) place to eat a Big Mac without needing a plane ticket.
The Gateway of the north sits at the confluence of the Nechako and Fraser Rivers, at roughly the geographic centre of British Columbia, despite the Lower Mainland being the centre of all other things in the BC universe. North of Prince George, the bears outnumber the people. They just haven't figured out how to organize and reclaim the land for their own.
Prince George has grown quite a bit since my youth, and now hosts the University of Northern British Columbia, a winery, and about 75,000 people. Bears: unknown. Mr. PG, a roughly 30 foot tall stick man made of logs, has been greeting visitors for over 60 years.
Esther's Inn (now Super 8 by Wyndham Prince George) was the place to stay. Affordable for families, kids and kids at heart went crazy for this mock tropical paradise in the middle of winter. The rooms were motel style, with two floors of rooms facing the interior atrium of the hotel, filled with a jungle of plants, palm trees, and a foot path replete with wooden bridges over the babbling stream that ran between the hot tubs, pool, and a tiki themed bar and lounge. If bargain trip to Waikiki circa 1975 is a decor theme, Esther's nailed it. I've not seen anything quite like it in my years of travel since. (A Best Western in Coquitlam comes pretty close, though).
It's been several years since we've been there, and it does appear from their website there's been some updating, but the famous atrium appears to be intact. Thank goodness.
I have been on a motorcycle exactly twice, but I would think the stretch of highway 16 between PG and McBride would be a blast on a bike. A little over 200 kilometers of pavement that undulates and curves just enough to provide a challenge without being hair-raising, and general lack of traffic makes for long stretches where you feel like the last human on earth. The last time I earned a non-photo speeding ticket was on this stretch. I didn't so much as make a peep – I was cruising along at 120 km+ in a 90 zone when the RCMP car crested the hill coming towards me. (Note of warning – the McBride detachment likes to go for long drives.) I was just having too much fun enjoying the long gentle curves and hills after several years in Alberta, where most highways are straight, flat, and congested. It was worth the 110 bucks.
There are no towns in this stretch, but Purden Provincial Park makes for a nice spot to stretch your legs, perhaps have a picnic, and enjoy the wilderness. I made an unscheduled stop there to clean cat vomit out of the carrier and 10/10 would go back.
https://bcparks.ca/explore/parkpgs/purden_lk/
The tiny village of McBride is the first taste of civilization since leaving Prince George, and that civilization is only skin deep. There are a few local cafes and diners to stop for a bite but this is not a sushi and spa place. But Aries is here for adventure, not luxury, and won't be disappointed.
As the gateway to the Robson Valley, there is plenty of recreation for those that decide to stop and stay a day or two – hiking, boating, and fishing – although, as in all cases, check local regulations for fishing rules as these change annually at minimum depending on stocks.
42 Kilometres east of McBride sits Tete Jaune Cache, which marks the junction between BC Hwy 5 south to Valemont, Revelstoke. Continuing East on Highway 16 takes you into the giant Rocky Peaks including the magnificent Mount Robson. If you are able to see the peak of Mount Robson, consider yourself very fortunate indeed. Puffy clouds pushed in from the coast are almost always entangled in its peak, year round. On a very clear day, the peak is truly awe-inspiring with its year round coating of ice. At nearly 4,000 meters, it holds the title of highest peak in the Canadian Rockies, and the first climbers reached its summit in 1913. At this writing, the live cam view was pretty close to the way I've seen it most:
Robson Provincial Park abuts directly onto Jasper National Park, with the BC/Alberta border delineating the boundaries. The boundaries seem a bit silly as you navigate the valley surrounding the giant of the giants. Aside from the blacktop underneath you, this is an area that feels untouched and beyond the imaginary lines drawn by humans. Wilderness and back country camping are permitted here, but for experienced campers only. The grizzlies and cougars are the apex predators here, not you.
Creeks and lake water spout from the glaciers above, and have that blue/green cast that can only be observed in the high country. Swimming is only for the very brave or very courageous, as the waters here are ice cold year round. In summer, camping and hiking are the primary attractions. In winter, Marmot Basin is the area's largest ski area with dozens of trails at various levels of difficulty.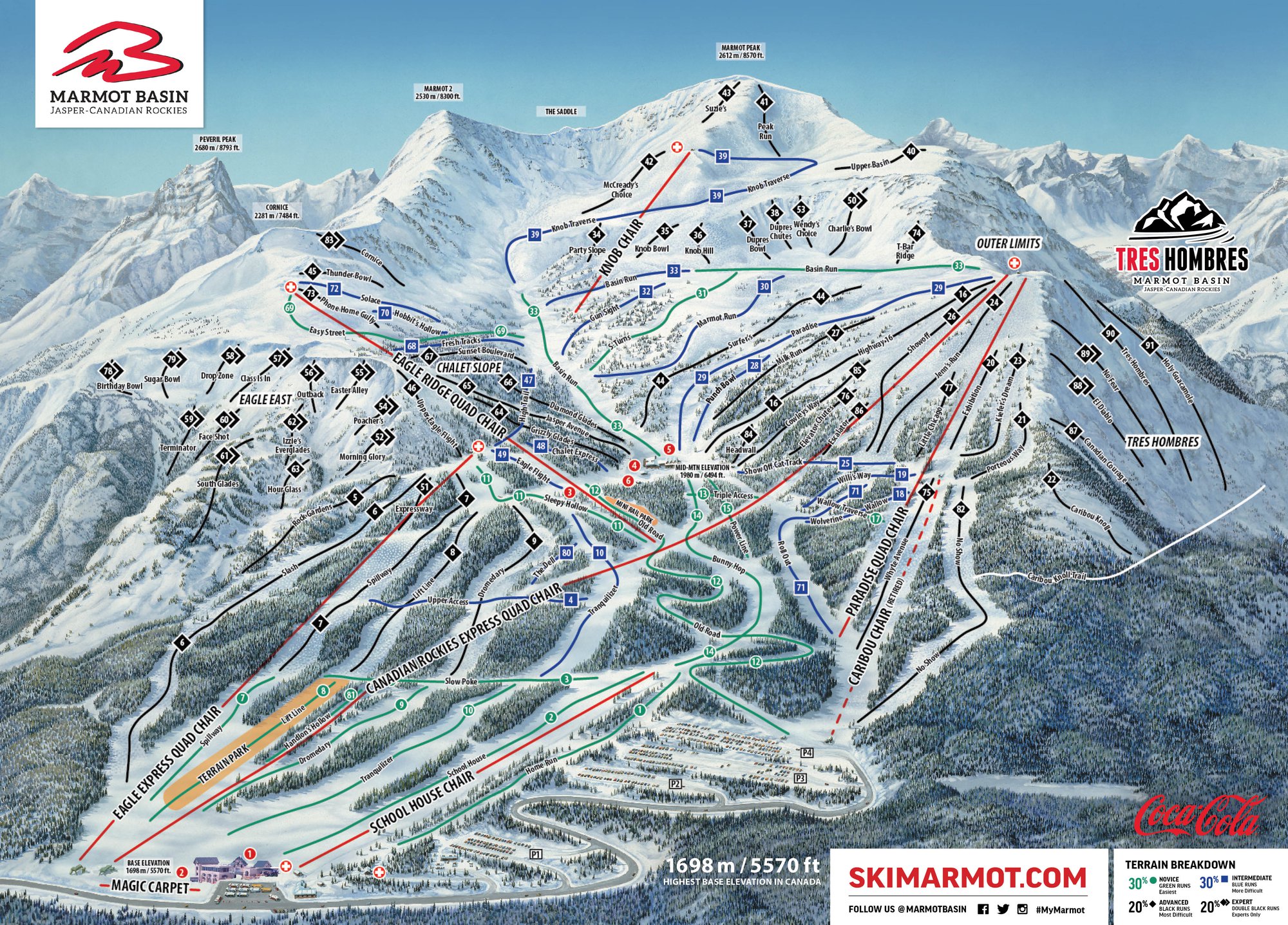 The town of Jasper offers a range of accommodations, but again, this is not Canmore/Banff. Even the Jasper Park Lodge, one of the historic CP hotels (now under the Fairmont brand) is more log cabin (literally) than its sister hotels/castles – the Banff Springs and Chateau Lake Louise. While Jasper does have an upscale side, it has always been the rustic flip side to the Banff/Canmore area. Authentic, adventurous Aries wouldn't have it any other way.
For more information:
Town of Jasper: https://www.jasper-alberta.com/64/Visitors
Jasper Park Lodge: https://www.fairmont.com/jasper
Jasper National Park: https://www.pc.gc.ca/en/pn-np/ab/jasper
Marmot : https://skimarmot.com